Your Complete Source for Custom Designed Thermoformed Solutions.
Forming Technologies was founded in November 2004 with the mission of becoming a leader in heavy gauge thermoformed products by providing unequaled service, quality, and timing to our customers.
Our manufacturing and sales divisions are located in Muskegon, Michigan. With our West Michigan location, we are just three and a half hours from Detroit and Chicago. Our accounting office is located in Brighton, Michigan, which is within an hour drive of Detroit.
We strive to provide our customers and partners unparalleled value through competitive pricing, quality products, and exceptional customer service.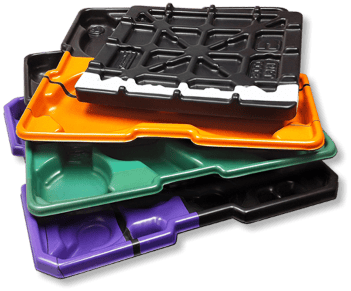 Plastic is a very versatile and economical material that is available in a wide range of types and blends to suit the needs of virtually any application.
Applications:
• Automotive
• Retail
• Household Appliances
• Recreational Vehicles
• Farm and Heavy Equipment
• Beverage Industy
• Sports Equipment


More Custom Applications:

• Customized Plastic Pallets
• Custom Produced Produced Pallets
• Custom Thermoforming
• Custom Plastic Packaging
• Custom Injection Molding
• Managing the Costs
• Provide quality products and services


Thermoforming Advantages:
• More cost effective than other types of packaging
• Prototype phase allows for design and fit issues to be resolved prior to production
• Best method for packaging large or heavy items
• Lower tooling costs
• Provide value through creative design


Packaging for shipping and processing parts pays dividends when the right materials, design, and applications are used.
Whether you need packaging for shipping loops or in-house processing, we provide an efficient cost effective solution.