Nuestras charolas para manejo de materiales son similares a las charolas para transporte y/o envío, excepto que el tipo de material y el grosor se seleccionan específicamente de acuerdo a las características de cada pieza para un mejor desempeño. Tienen resistencia a los solventes, así como al impacto y son de fácil limpieza para su reutilización en la línea de producción.
Estas charolas están hechas de plásticos como: HMWPE (High Molecular Weight Polyethylene) y ABS
El empaque se diseña para contener múltiples piezas en montaje de la línea de ensamblado, ya sea en un proceso automatizado o manual, asegurando resistencia y fácil acceso para el operador.
No sólo automotriz
El termoformado de alta precisión está reemplazando rápidamente al empaque de inyección como la tecnología preferida en la producción de charolas para manejo de materiales. La exactitud en el proceso de termoformado hoy en día es igual o superior a la de inyección. Esto es aplicable en todos los sectores, no sólo en el automotriz.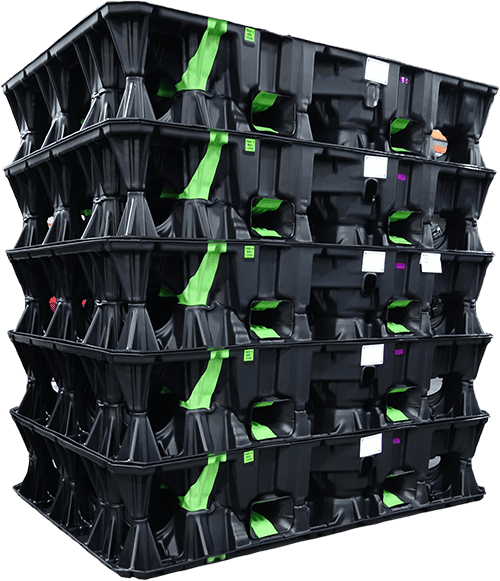 Prácticamente todo el empaque industrial es personalizado.
Después del diseño y el desarrollo de la parte a empacar, la correcta elección de los materiales y el empaque son decisivos en los costos y eficiencia de la logística y los ciclos
Otras ventajas del empaque de plástico termoformado:
• Muy adaptable a las necesidades de diseño de los clientes.
• Desarrollo rápido de prototipos.
• El material y el proceso ofrecen muy buena rentabilidad.
• Ajuste o adecuaciones en el proceso con bajos costos adicionales.
• Ahorro en peso para fabricantes y consumidores.
• Menores costos en los herramentales.
• No necesita anticorrosivos.
• Se puede agregar color para fines específicos
Operaciones secundarias
• Hot stamping
• Etiquetas personalizadas
• Placas personalizadas
• Instalación de insertos de uretano para prevenir rebabas
• Cinturones de seguridad
Our returnable trays offer improved durability and a longer life span than expendable packaging.
Let us show you the Formtech advantage!
Send us your requirements and your contact details and we will respond as soon as possible regarding the best way to serve you.